Christmas Craftacular
Even if you love Christmas, there are some years that just make you feel like this:
I couldn't even get the stupid melted-snowman cookie right. This is what it's supposed to look like, in case you're shaking your head wondering why this cookie is even a thing.
Go
, to learn from a pro.
Last year I dealt with December Depression by ignoring Christmas altogether and watching Die Hard. This year I'm taking a different approach. I'm hitting my X-mas Pinterest Board like it's a piñata on Nochebuena.
First up was the holiday village. I've wanted to make one for years. My family had some of these old glitter houses growing up, and I used to love setting them up on the windowsill with little bottle brush trees, a light stuck in every one.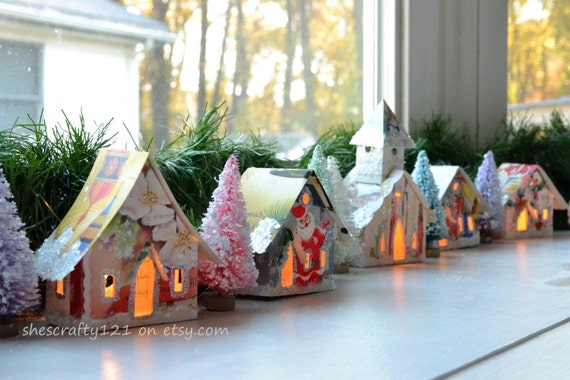 Put your exacto knife away, this lady sells them
.
Mr. Responsibility and I were trying to curb our nightly TV marathon, so we turned to the most logical alternative: building a village together. Unfortunately, we (re)discovered that I can be a bit of a micromanager. He did get a couple of roofs and some windows cut before I kind of took over. We've gone back to the Mindy Project at night, but I managed to finish these guys - all of the plans came from
:
Papers came from Paper Source, but all the rest can be done from the cereal boxes and Elmer's you already have. I think the Dutch liquor bottle houses are a nice touch.
Then there are the hand-knitted mini-sweaters. These seemed so cool and unusual when I started making them five years ago. Now they sell cuter ones at Michael's for 99 cents. So I finished up the white one this year and decided to call it a day. Each one took at least two hours for some reason, so they aren't even a satisfying speed:
Next up were winter napkins - I'm a big believer in decor you can use for a whole season (in New England the cold one lasts for eight months) so I tried to make these more winter, with just a hint of Christmasality:
They're reversible, so I can go straight red on Christmas day.
Back on that Pinterest board, I scrolled past
wreath for the 54th time and decided 2014 was the year. This is hardly a craft, since it was someone else's idea and all I did was buy a wreath,
(you can get just about any hair/skin color combo), and glue gun the whole thing together with some polyfil for snow, but I love it, love it, love it, and will be happy to hang it on my door for years to come.
She's like an Olive Kitteridge gnome, made in Maine and everything.
My final projects are J's stocking and my winter quilt, but I'll save that for the next post - I mean, we're only half-way through December, right?